*Best financial management tool *Simple but powerful and functional *A highly successful budget app
My budget is a money manager that helps you spend smarter and save more. The app includes a lot of useful features, so you'll find it ridiculously simple to keep your budget on track. With My budget, it's never been easier to stay current on your personal finance! 
Features:
- Provide you with a clear and synthetic view of your transactions via beautiful graphs/charts
- Provide daily/ weekly/ monthly/ yearly statistics 
- Protect your personal financial data by Passcode
- Input your financial transactions quickly
- Export data to PDF/ Excel files
- Set budgets to keep your spending under control
- Set alerts to remind you of overspending
- Daily/ monthly/ quarterly/ yearly reports and expense analysis are represented in form of pie charts
- Allow you to record transactions in Cash, Bank accounts, Savings as well as add a new subcategory to a parent category
- Share via Facebook, Twitter and Email
- Bring updates to the App Store regularly
- Built-in reminder 
- Unlimited transactions
For any feedback, please feel free to contact us at support.ios@bhmedia.vn 
Many thanks and best regards,
BHMEDIA IOS TEAM!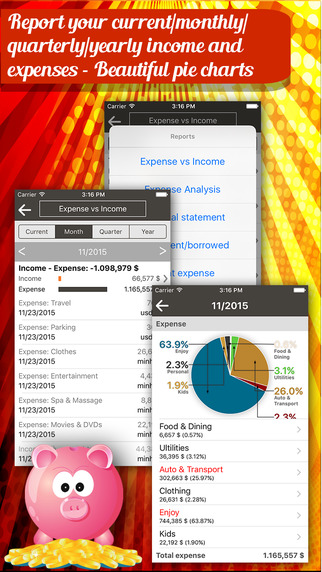 Link dowload: https://itunes.apple.com/us/app/my-budget-personal-expense/id1025624797?mt=8